Official Press-Release (05 June, 2011)
AFOX Launches New NVIDIA Geforce GT 640 Graphics card
AFOX Corporation, a professional and leading manufacturer of Graphics Cards, today announced to release the latest AFOX Geforce GT 640 Graphics Card AF640-2048D3L1 – the newest model designed for mainstream users with excellent 3D display and gaming performance, perfect low profile size to all PC types, full PCI Express 3.0 and DirectX11 support.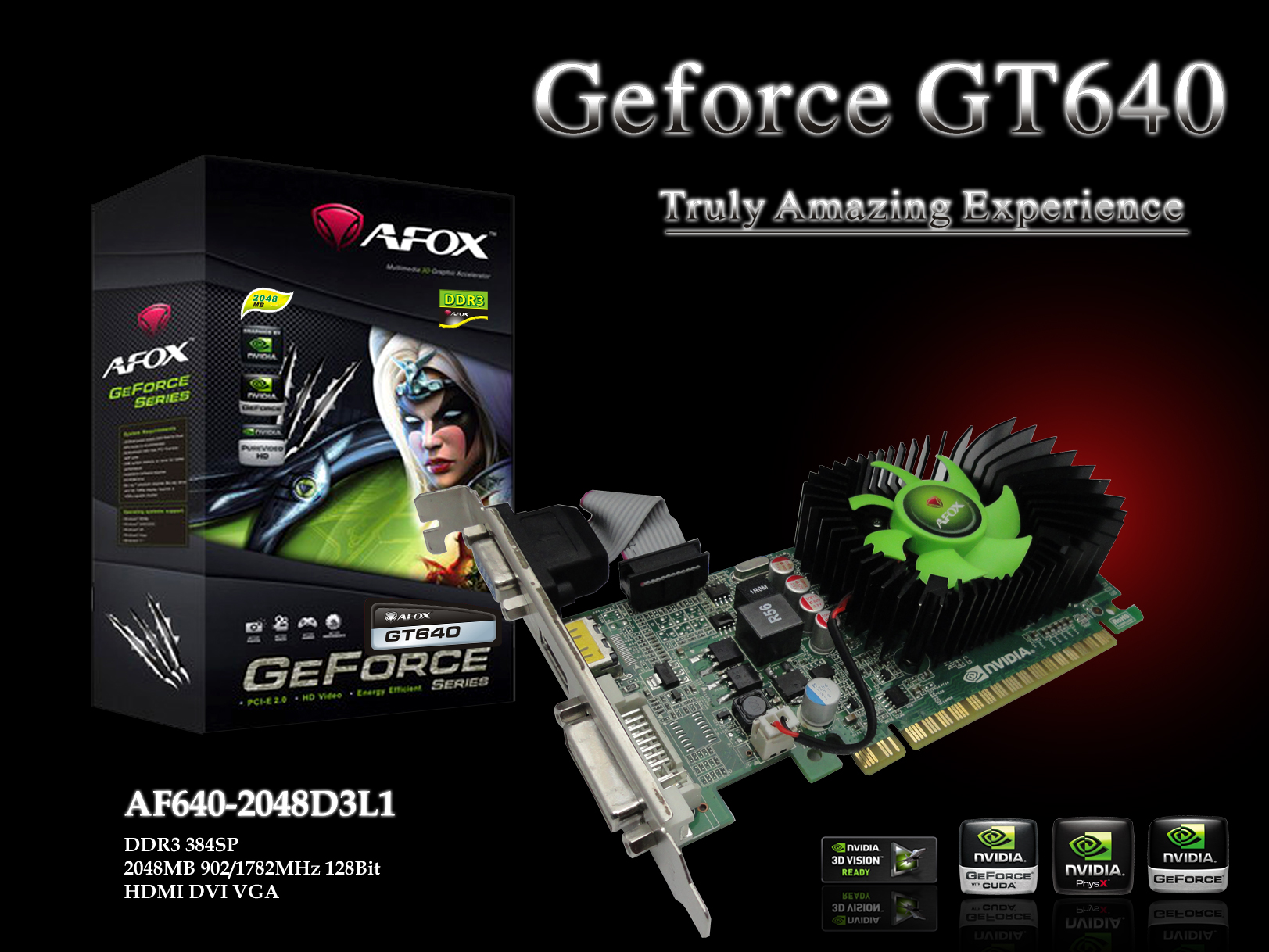 Compared to the previous generation, the new AFOX AF640-2048D3L1 based on latest NVIDIA's 28nm Kepler GK107 GPU, has up to 25% better performance than the old GTS 450. The AFOX GT 640 Graphics Card has 384 Cuda Cores, an impressive 900MHz core speed, 2048MB of DDR3 memory running at 1782MHz and 128-bit memory interface. It supports NVIDIA CUDA, PhysX and Blu-Ray 3D technology, which are designed for both high quality gaming and great home theater solutions. Without any additional power requirement, the testing result shows that the new AFOX GT 640 Graphics Card has an unbeatable performance/Watt ratio compared with previous generation products. More ever, the engineers of AFOX optimized the reference PCB design with higher efficiency components and size it into a smart low profile design. Features the triple monitors display support, the AFOX GT 640 Graphics Card provides users a most exhilarating experience on PC.





ABOUT AFOX CORPORATION

AFOX CORPORATION - the well-known graphics cards manufacturer with an inheritance of more than two decades of engineering experience. AFOX earned a reputation for producing state-of-the-art products with extremely stable quality and excellent, aesthetical graphics accelerators design. With its highly-qualified engineering team and advanced manufacturing facility, AFOX presents reliable, high standard products for end-users worldwide. For more information, please visit our official website www.afox-corp.com